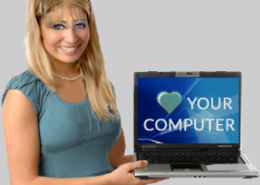 See What Our Satisfied Computer Clients Say!
We have repaired, installed, upgraded and networked computers for thousands of satisfied clients. We have serviced all models of Macs (Apple), Personal Computers (Windows) and Laptops in our repair shop and at our clients' homes and offices. Our fast service and reasonable prices keep our loyal customers coming back time after time.


When it comes to computer problems, this company and the work they do is amazing. I have had 3 different computers fixed by Aaron and Computer System Services LLC and not one of them have ever been back to him or the company for any other issues.
Aaron is the best person around to work on any computer. He's great with people and kids. I have brought two laptops off him for my grand kids, and I had one quit working and he changed it out for a different one. He has also fixed my two I have. He very reasonable on his prices.
My computer was infected with malware viruses which rendered my PC useless. CSS fixed the problem in no time flat and at a very reasonable cost as well. Been 2 years since the fix and have not had one single problem since!