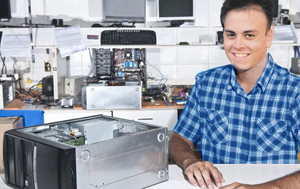 We love helping our customers get their computers running perfectly! But we also love helping our clients save money. And we will never, ever charge you for something you don't need.
So, before you bring in your computer for repairs, here is a short list of some common computer issues that you may be able to fix yourself! Of course, anytime you would rather "leave it to the pros" you are welcome to call us, come in, or schedule an in-home or in-office computer repair or upgrade appointment.
1. The Simplest Do-It-Yourself Computer Fix
It may sound like a no-brainer, but . . . If you're having problems with your computer always try turning it off, waiting a couple minutes, and then turning it back on. Today's sophisticated operating systems can often identify and repair an internal problem on their own, upon system restart.
This applies to computer peripherals as well, such as printers. Turn off both the computer and the printer or other device. Then restart both. If that doesn't work, try disconnecting and reconnecting the problematic device. If you are still experiencing the problem, give our computer professionals a call!
2.  Fixing a Slow Computer
– Cheap Repairs – Dryden
The first step to fixing a slow computer is to determine if your computer OR your Internet connection is the cause of the slowness. Many people mistakenly identify a slow computer system as the problem, when it's actually their broadband connection that is at fault.
First, go to http://www.Speedtest.net and run a speed test to see what your download and upload speeds are. Ideally they should be at least 50 percent of whatever your Internet service provider's advertised speed is.
If the speed test reveals that your Internet connection is fine, then the problem is your PC. You may be running out of free space on the hard drive holding your operating system.  Windows needs room to create files while your system is running. If you are comfortable doing so you can clear some space yourself by deleting unnecessary files or by uninstalling programs you don't use.
Of course, if you aren't comfortable doing this, our computer repair experts can do it for you. Or. we can simply add more storage (memory) to your system – so you can keep what you have but run faster!
3. Your Computer is Hot or Loud 
– Cheap Repairs Dryden
If your computer is making a loud humming sound, or feels too hot, it is probably an issue with the fan. Believe it or not, a simple vacuuming might fix this problem! Dust and lint – and especially pet hair – can block the computer's ventilation grid, causing it to run hot or overheat. First, shut down the computer, then unplug it and gently pull it away from the wall. Next carefully vacuum the vent (honeycomb grid) on the back. We have opened up computers and found enough pet hair inside to knit a new cat!
If this doesn't do the trick, and your computer is still hot and/or loud, give us a call or bring it in for further diagnostics.
4. Get Rid of Pop-up Ads on Your Computer
Uh Oh! Getting pop-up ads on your desktop means you've most likely unintentionally installed adware—a program that displays unwanted ads. Getting rid of adware isn't easy. And there are hundreds of online tools out there that promise to clean up everything! But a lot of times those "clean up programs" are not going to do much – and may even make the problem worse.
Therefore you should avoid downloading programs that offer to speed up your PC or clean up your registry. First, simply run a full scan with your antivirus software (such as Norton, MacAfee, etc.)  If that doesn't "find" the adware, then we suggest you try using a trustworthy and FREE adware scanner called "Malwarebytes' Anti-Malware tool". (Make sure to disable your standard antivirus software before running it.)
If the problem still persists after doing this, give our computer professional a call or bring your PC in to us (between the hours of 10 am and 4 pm – or by appointment).
When to Hire a Professional Computer Repair Company
If you encounter any problems that you are not comfortable addressing personally – and we mean ANY – we are here to help you! When in doubt, it is always better to hire a professional, so you do not do something that may void the manufacturer's warranty or potentially damage your system.
We have the tools to diagnose any computer problem and the knowledge and experience to fix any make or model (Mac, Apple, Windows, PC, Laptop). And, in most cases we can save you hundreds of dollars by repairing or upgrading your existing computer – so you do not have to spend money on a new computer system!
Share this entry